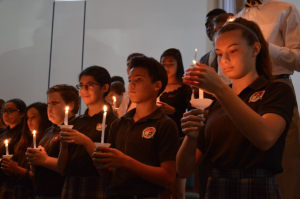 The weather is getting cooler as we quickly approach the holiday season. In early November, it will be time for the Feast of St. Charles Borromeo. The students at St. Charles Borromeo would like to take a moment to remember our patron saint.
St. Charles Borromeo is the patron saint of bishops, cardinals, seminarians, and spiritual leaders. As you'll see, he was a highly important figure of the Counter-Reformation in Italy. His dedication to God is something we all can learn from and embrace.
St. Charles Borromeo was appointed as a Cardinal and Archbishop of Milan in 1560 by his uncle, Pope Pius IV. His uncle relied upon him while directing the third convocation of the Council of Trent—and St. Charles Borromeo continued to maintain the Council's decrees after it closed. This led him to be instrumental in the 1566 Roman Catechism.
After his uncle's death, St. Charles Borromeo lived in Milan where he regularly visited more than 1,000 widely scattered parishes. He sought to apply the edicts of the Council of Trent to his own diocese by striving to end the sale of indulgences, reform monasteries, and simplify the interiors of ornate churches. His work didn't end there—St. Charles Borromeo also fostered clerical education, established seminaries and colleges, and erected and entrusted colleges for lay students to the Jesuits.
St. Charles Borromeo was later overcome by political turmoil, including surviving an assassination attempt and pleading mercy for his attacker. However, his great work within his communities led him to retain the support of many religious congregations. His heroic behavior during the plague in 1576-1578 earned him even more support. Even during turmoil, he continued to be a blessing to the community in Milan by giving away much of his wealth to give food to the hungry and care for the sick.
Our community at St. Charles Borromeo hopes to be as helpful to others as St. Charles Borromeo was within his own community. As we approach the Feast of St. Charles Borromeo and remember his work, we will aim to follow in God's footsteps and be blessings to those around us. If you have a similar vision and are looking for a Catholic school to help your children grow academically and spiritually, please consider visiting us at St. Charles Borromeo.
As a faith-filled community, St. Charles Borromeo Catholic School, an Orlando Catholic school, is committed to proclaiming the Gospel Message of Jesus Christ. We are cultivating responsible, respectful, trustworthy individuals who are confident in their knowledge and compassionate in His service. If you want to learn more about St. Charles Borromeo Catholic School, visit our blog page or contact us today!