Even when she was young and living in the tiny town of Ponca City, Oklahoma — a town so small that there wasn't even a McDonald's until she turned 13 — Karri Gomez knew exactly what she wanted to do with her life.
"I've always wanted to be a teacher. My family was either in teaching, farming, or insurance — there was no in between. My parents, aunts, and uncles were teachers. I've always had a natural knack for communication and reaching kids," said Gomez. "I learned [from my family] at a very early age that teaching was more than giving instruction in a classroom setting: it's about building confidence and life skills."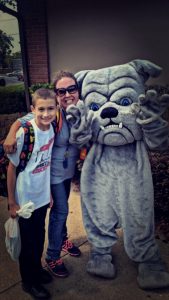 Over the years, Gomez watched her family make a difference in their students' lives and became inspired to do the same in her future classroom. She believes that every experience you have molds you. She moved around frequently as a child, and those experiences strongly affect her approach to teaching. She's conscious of how every child feels in her classroom and remembers what she would have wanted as a new student.
"We moved around a lot, and when we moved, I got to experience being the new kid — sometimes good, sometimes bad," said Gomez. "I had teachers that were empathetic and teachers that weren't. It really taught me what it's like for a child to experience being new, and I would never want someone to experience the negative things that I did; I really want them to experience the positive things. I want to create an enriching and engaging classroom where students enjoy the learning process."
In Gomez's classroom, she makes the curriculum come alive, whether it's through solving exciting "classroom crimes" with interactive clues or by sharing funny, relatable stories. You'll never find her at her desk; she's constantly involved with her students, joyful as she watches them discover new information.
"I'll teach any grade level, I love them all! But third grade is so much fun. What's so amazing about this age group is this is when they start to develop their own voice and personality. They take what they've learned and really start to apply it," said Gomez. "They become more independent and mature learners; they become more advanced readers, writers, mathematicians, and thinkers. We go deeper into topics and the students can relate the content to their personal life and experience. This shows up in their writing and everything becomes more personal. It's so much fun watching them grow throughout the year!"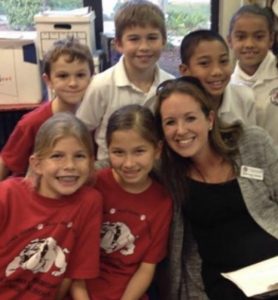 Not only does Gomez help students grow academically, but spiritually. At the top of every assignment, each student's paper is headed with Philippians 4:13: "I can do all things through Christ who gives me strength." She loves sharing the Word of God with them and loves watching their eyes light up in the faith-filled moments
"As a teacher, I always say a prayer about the class I'm going to get," said Gomez. "It's not so much, "How am I going to get through all this material?" It's, "Open my eyes to what they need. How can I help them? Who needs help academically? Who needs to challenged? Who is lacking in self-confidence?"
Throughout the year, Gomez gets to know each student as an individual and encourages them to push through challenges. It's important that each child understands how capable they are and that they can always lean on the Lord, because He will always be there for them.
"I never look at what I do as a job; I love working with my students. I love that I get to learn with them. Building a strong rapport with students is the key to a successful learning experience," said Gomez. "Students have to know they can come to you. You have to be there for [students] and get to know them. They have to know I'm going to help them, be there for them, and cheer them on."
As an Orlando private school, our staff is committed to proclaiming the Gospel Message of Jesus Christ. We believe in teaching the whole child and want students to love learning, helping them grow into well-rounded, contributing members of society. Learn more about us by contacting us here.