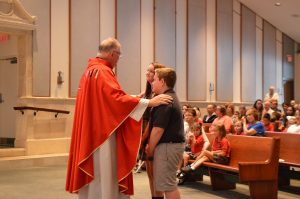 The Annunciation is an important event that, as an Orlando Catholic school, we at St. Charles Borromeo would like to take the time to remember. Let's take a few moments to look back on the moment of The Annunciation and the reasons why it means so much to us.
Annunciation is a fancy old way of saying "announcement," and what a huge announcement this was; The Annunciation celebrates the day that Gabriel announced to Mary that she would birth the Son of God. This day is usually celebrated on March 25th, nine months before Christmas. This is meant to be symbolic of the length of a pregnancy.
While the announcement itself is important, what we can learn from is Mary's complete trust in Him. She does not doubt Gabriel when he announces her pregnancy. Instead, she asks how such an event will occur. Although she is legally married, she is still a virgin, and, considering the nature of her question, it may be implied that she is assuming she will have a virgin birth. Gabriel explains that all three Persons of the Trinity will make the birth possible—nothing is impossible with God.
This is not an easy thing to accept or agree to. The pregnancy could tarnish Mary's social status and potentially strain her relationship with Joseph. Others would assume that her pregnancy would have been caused by unfaithfulness. This task would certainly bring her suffering, both known and unknown. She could anticipate the stress on her social status, but she had no way of knowing that the Crucifixion of her child was yet to come. Despite this, Mary entrusts herself entirely to God's will. Through God, she had free will to choose her own path, and she chose to trust in Him.
As we approach The Annunciation, let's remember the strength that it took for the Virgin Mary to trust in God so completely. Let's remember the struggles thereafter that led to our salvation. And, in our day to day lives, let's do our best to emulate that level of trust and devotion in His plan for us.
As an Orlando Catholic school, St. Charles Borromeo attends to the spiritual needs of our students so they can learn to trust in Him. If you're looking for a faith-filled school that prioritizes both educational and spiritual needs, please consider visiting our community. You can read our about us page for more information about our community and what we stand for.
Save