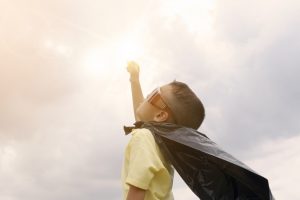 Children around the globe have used their creativity and innovation to change lives for the better. Children often assume that they can't make an impact on the world at their age, however, as an Orlando Catholic school, St. Charles Borromeo believes that children can make a powerful change. Help inspire your child to make a difference by sharing these stories of other children who have changed the world!
Ann Makosinski
This 16 year-old Canadian student discovered that her friend in the Philippines had no light to do her homework at night. She used innovation to create a powerful, alternative source of light. With only $26 and an original idea, she created a flashlight powered by body heat.  Ann Makosinski has her sights set high and aims to provide this source of light to people in developing countries for free.
Alex Deans
While helping a blind woman cross the street, Alex Deans realized the woman did not have a device to help her walk by herself in her own neighborhood. He saw an opportunity to create something that could give the blind more autonomy, and at 12 years-old he taught himself programming and created the iAid. The iAid combines GPS and a compass to offer valuable guidance to the blind.
Chester Greenwood
In 1873, Chester Greenwood combined beaver fur, wire, and cloth to create the first earmuff — an invention every northerner relies on to keep their ears from freezing in the winter. By the time he was 19 years-old, he had created his own earmuff manufacturing company.
Margaret E. Knight
Margaret E. Knight is responsible for designing our foldable, paper grocery bags. She designed a variety of other helpful gadgets in her youth, but most notably, at 12 years-old she created a metal part that kept workers safe when handling weaving looms.
A child's unique perspective can be just what the world needs to solve problems. Encourage your child to think outside the box, and share these stories of children who have done the same! If you're looking for an Orlando Catholic school that encourages children to see their full potential, visit us at St. Charles Borromeo. Our supportive community helps build a strong foundation for children to become responsible, diligent adults.