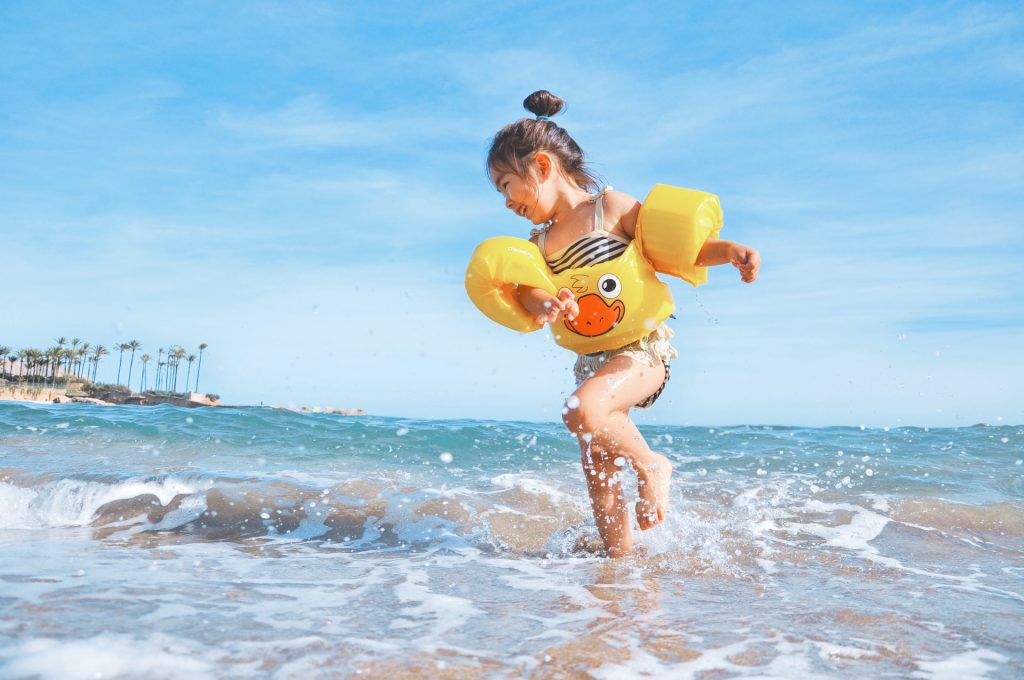 The summer sun has been heating up Florida for months now, and the ever-rising temperatures confirm it. School is out, and families are taking to the pool, lakes, and ocean beaches to beat the heat for summertime fun. There are some precautions that parents and caregivers should take to prevent sunburn, long-term skin damage, heat exhaustion and heat stroke.
Spend time in the sun wisely.
Children want to be out all day long during the summer break. However, parents and caregivers should limit the amount of time spent in direct sunlight. If possible, schedule outdoor activities before 10 a.m. and after 4 p.m. to avoid the maximum strength of the sun's rays. If being out in the sun can't be avoided, have them wear UV protective clothing, which provides a great layer of protection. 
From swimsuits to lightweight long sleeve shirts and pants, sun protective clothing can provide up to SPF 50 protection to delicate skin. Wide-brimmed hats are recommended as they not only shield the face, but protect the scalp and neck from direct sun exposure. This is especially important for newborns and infants too young to have sunscreen safely applied.
Sunscreen is still your friend.
Sunscreen is still the most valuable tool in the summer sun protection plan when used properly. It should be applied at least 15 minutes prior to the first exposure of the day and then reapplied every 2 hours. Reapply more often if swimming or sweating profusely. Effective sunscreens protect from both UVA and UVB light and have a minimum of SPF 30. Whether spray on or lotion, sunscreen is an absolute must have for keeping kids safe in the summer sun.
Protect those beautiful eyes.
Children's eyes allow more UV light to pass through to the retina than adult eyes. The radiation that passes through causes cellular damage which can cause complications later in life, such as cataracts and cancer of the cornea. Children are more likely to reach for a pair of sunglasses before heading outside if they have been encouraged from infancy to wear them. For added incentive, children are also more likely to wear them if they have selected their own style and color. Set a good example by wearing your sunglasses every time you are out in the sun. Make sure everyone's eyes are protected before heading out for summer fun in the sun.
Know the warning signs of sunburn and treat it as soon as possible.
People who suffer five or more sunburns over the course of a lifetime have doubled the chances of developing skin cancer (melanoma). Contrary to old-school thinking, there is no such thing as a "healthy" tan. If you see that your child is starting to exhibit red skin, get them out of the sun as soon as possible. 
To prevent a burn from becoming painful, immerse your child in a cool bath, and after patting them dry, moisturize with aloe or cortisone cream. Stay away from heavy creams and lotions that will retain their body heat. Do not use lidocaine or benzocaine products, as they can further aggravate the sun burn. Make sure they drink plenty of water to stay hydrated.
Staying safe is an important part of summer fun in the sun, and we always encourage our students to keep safety in mind. Our Orlando private school, located in the Catholic Diocese of Orlando, encourages parents to provide children with activities to help stimulate them over the summer. Our staff is committed to proclaiming the Gospel Message of Jesus Christ. We believe in teaching the whole child and want students to love learning, helping them grow into well-rounded, contributing members of society. Learn more about us by contacting us here.