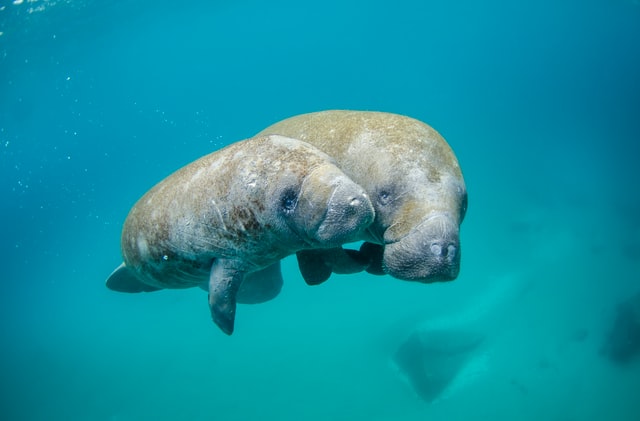 The concept of a "Florida winter" is almost an inside joke among long-time Floridians. It never gets cold enough to snow, though it sometimes gets almost cold enough for a week or two. While winters in Florida certainly aren't postcard-worthy, there's no lack of things to do to celebrate the season. Some activities, like going to the beach or a park at the end of the year, are only possible in a warmer climate. Here are a few ways we recommend celebrating the season as a family.
Observe the Manatees
Hundreds of manatees migrate to Crystal River every winter when they're seeking warmer water. Visitors of the wetland refuge surrounding Three Sisters Springs can see these manatees up close in crystal clear waters. You can observe them from the boardwalk or swim, snorkel, paddle beside these magnificent creatures. Since it depends on their migratory patterns, this can only be done during Florida winter.

Visit an Ice Skating Rink
While Florida kids may not experience snow in the winter, they can still learn what it's like to fall on the ice. Winter is the perfect time for Floridian families to head to the ice skating rink. Indoor ice skating rinks are open year-round, and sometimes fairs come into town with pop-up ice skating rinks. Some places, like Gaylord Palms, take the experience a step further with full-on winter wonderland experiences. Whatever type of ice skating rink you go to, you're sure to experience weather conditions that are a little colder than the temperatures outside.
Give Kids the World Village 
One great way to ring in the holidays is by looking at Christmas lights. The Night of a Million Lights at Give Kids the World Village gives families that experience and much, much more. This immersive holiday lights spectacular includes dancing lights, a tree trail, music and treats. The best part is that by attending this event, you're helping children around the world. Give Kids the World is a nonprofit organization that gives critically ill children and their families a dream vacation at no cost. 

Surfing Santas
It's great to have traditions, but sometimes, it's even better to change them up! The Surfing Santas at Cocoa Beach provide a great opportunity to do just that. At 8am on Christmas Eve, you and your family can watch as surfers dressed as Santa Claus hit the waves. This free, family-friendly event includes a surfing contest and a costume contest. 
Our Orlando private school located in the Catholic Diocese of Orlando is more than a place to learn; it's a community. Our staff is committed to proclaiming the Gospel Message of Jesus Christ. We believe in teaching the whole child and want students to love learning, helping them grow into well-rounded, contributing members of society. Learn more about us by contacting us here.