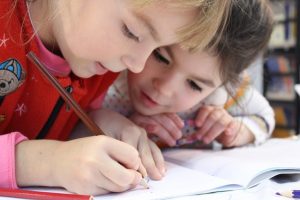 As the new school year begins, it's important to remember how messy study habits may cause your child to struggle with their workload. As a College Park private school, St. Charles Borromeo thinks highly of our students and wants them to reach their full potential! Help your child conquer new academic challenges with these study tips.
Create a Study Space
To help make your child's homework time as productive as possible, set up a disruption-free area where they can concentrate without distractions like technology, lots of people, or a ton of noise. Remember that each child is different, so what works for one may not work for another! When your child has a designated study spot, they won't have to search for a quiet space every day. If your child likes to study with background music, add that to their study space to help make it feel comfortable and relaxed.
Give Tips for Careful Listening
Children absorb a lot of information in school, so help your child practice active listening to help them get the most out of class time. By helping your child learn how to identify main points and pay extra attention to their teacher's gestures and tones, they'll be able to retain what they learn and take note of important information.
Keep a Consistent Schedule
Between time with family, friends, and extracurricular activities, it can be difficult to find time for homework each day. Rather than squeezing in homework during free time, consistently allot time just for homework; this will guarantee that your child is never scrambling to find time to study.
Discuss the Difference Between Studying and Homework
Children commonly assume doing their homework is the same as studying, but it's important that they understand the difference. While homework can help children reinforce information that was recently taught, studying involves deeper memorization and understanding. Explain to your child that when they study a little bit at a time every day, their homework will become easier, and they will be more successful on tests. Encourage your child to take notes while reading, summarize information in their own words, and make flashcards. These few extra steps will help students better retain what they've learned.
We're excited to see how much our students will learn and grow during this upcoming school year! If you're looking for a College Park private school, come visit us at St. Charles Borromeo. We believe our students should study hard, play hard, and pray hard in order to become responsible, respectful adults. You can learn more about our curriculum on our about us page.