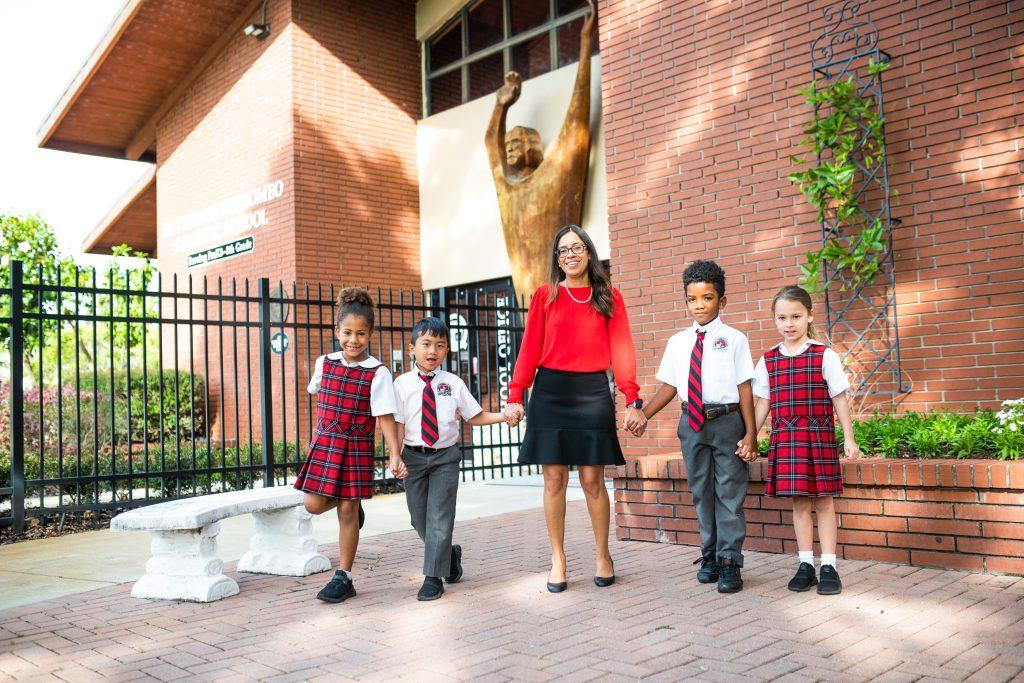 Catholic school has something that's missing in many public and private schools: an emphasis on faith and character development. Children outside of faith-based schools learn academic lessons in school, and they learn social skills through interactions with other students, but they aren't inherently taught how to become the best version of themselves. Catholic schools have a proud history of developing the whole child. Read on to learn about some of the ways spiritual values are developed. 
Faith and Love
Faith is the foundation of Catholic education. It's taught in the classroom, in school chapels and in the hallways of Catholic schools. Through faith lessons, children learn about the importance of loving each other, loving themselves and loving God. Children learn about Jesus's love and how it exists in their everyday lives. When times are difficult, they often find hope in the faith that Catholic schools foster.
Charity and Service
Through Catholic faith lessons, children learn about the importance of charity and service to others. They learn that everyone, regardless of their situation or social standing, is worthy of God's love and, therefore, worthy of their own. The best way to show love to those in the community who need assistance is through acts of service. Service is often part of the curriculum at Catholic schools, with some schools requiring volunteering time from both parents and students.
Community and Unity
The moment you walk into a Catholic school, you're among a community of people with shared beliefs and values. Students, teachers and faculty often join together in prayer and service, building meaningful bonds that last a lifetime. Everyone has a shared purpose, and they use that purpose to do good in the community and the world around them.
Morality and Courage
Doing good is more than volunteering and donating to charity a couple of times a year. Catholic school students know that doing good needs to be an everyday effort. Through classroom lessons and at-school worship, students learn about Catholic values and why they're important. By being surrounded by Catholic values on a daily basis, students learn to be courageous at times when their beliefs may be tested.
Respect and Forgiveness
Through strict discipline, Catholic schools teach students the importance of respecting others. They learn early on that every person deserves respect and forgiveness, especially themselves. This can be a difficult lesson for children, who often feel unheard and worry that they've ruined everything if they make a minor mistake. Learning about these aspects of life in school prepares children to go forth in the world as their best possible selves.
Our Orlando Catholic school emphasizes Catholic values and character building as part of the curriculum. St. Charles Borromeo is more than a place to learn; it's a diverse community. Our staff is committed to proclaiming the Gospel Message of Jesus Christ. We believe in teaching the whole child and want students to love learning, helping them grow into well-rounded, contributing members of society. Learn more about us by contacting us here.