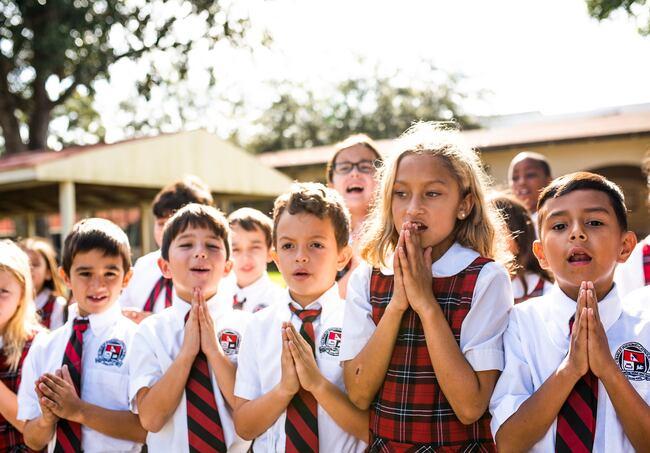 The Holy Spirit provides numerous gifts to people of faith. Children who grow up in Christian families learn all about these gifts and how important they are for fully living in faith. However, they don't inherently know that the Holy Spirit is within them. By teaching your children about the Holy Spirit, you can help them appreciate the impact it has on their lives. Here are some ways children can learn to appreciate these awesome gifts.
Being a Child of God
Through the Holy Spirit, people who follow God become children of God. All of God's children share a unique bond with one another, one that can be seen when they come together at church, out in the community or at school. This bond unites children and reminds them that no matter what they're going through, they're not alone.
Gaining God's Wisdom
As Pope Francis explains it, one gift of the Holy Spirit is the "grace of being able to see everything with the eyes of God." This wisdom allows children to see beyond the perspective of this world. Children have access to the infinite love and wisdom offered by God through the Holy Spirit.
Living with Piety
Children who accept the Holy Spirit into their lives learn to live in a pious way. They live in awe of God and practice humility in His presence. Teaching your child to treat God with reverence can go a long way in helping them understand their faith.
Understanding Virtues
One of the gifts of the Holy Spirit is right judgment. This is what helps people determine right from wrong. For children whose minds are still developing, this can be a difficult distinction to make. Take time to discuss situations in your child's life with them, relating them to moral and theological virtue lessons.
Building Fortitude
While knowing about and understanding your beliefs provides necessary context, learning to stand up for them is equally important. Through the Holy Spirit, children can build fortitude that allows them to stay strong when faced with temptation to act in ways that conflict with their faith. Praise your child when they model good behavior, especially when you can tell it was difficult for them.
Students at St. Charles Borromeo learn all about the gifts of the Holy Spirit and the strength they can provide. Our Orlando Catholic school located in the Diocese of Orlando is more than a place to learn; it's a diverse community. Our staff is committed to proclaiming the Gospel Message of Jesus Christ. We believe in teaching the whole child and want students to love learning, helping them grow into well-rounded, contributing members of society. Learn more about us by contacting us here.