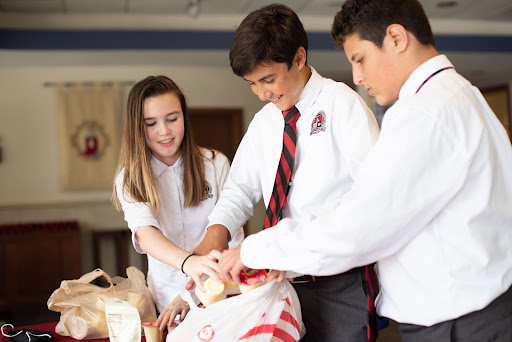 Community involvement benefits people of all ages. Getting involved at a young age can help children in ways that last a lifetime. At Orlando Catholic schools, community is part of the curriculum. Students participate in service-based activities with their classes and at after-school clubs. This not only helps those in need; it also helps the students themselves. Here are a few of the many benefits of community involvement for children:
Being Part of Something
Children who join a community become part of something larger than themselves. This sense of belonging empowers them to use their gifts and talents for good. The more children feel like they're contributing in a group, the harder they'll work to further the cause. In many cases, discovering your own power happens when you help others find theirs. Helping the community is always a team effort, which offers another important benefit: the ability to build relationships. 
Building Connections 
Your child benefits from making friends they don't see every day in the classroom. By meeting people of all ages through all walks of life, children can broaden their horizons. Building socialization skills early in life will benefit them in the future when they join the workforce. The benefits of building these skills don't just happen later in life; they start at the very first community event.
Achieving More
When students feel important, it shows. Joining student organizations and participating in community service projects can give meaning to children's lives. Being part of a community gives them confidence that helps them thrive. It also lets them know that if they're ever struggling, in school or otherwise, there's someone they can talk to. The more people your child has to lean on, the less likely they are to fall behind. Meeting people from all walks of life, especially when doing community service, can also make children more aware of issues that impact communities. 
Awareness of Issues
Community service has a clear connection to learning about the issues those less fortunate face. Often, a project will focus on a specific problem and how volunteers can get together to fix it, at least at a local level. However, joining any community can help children become more aware. Community involvement can teach children about other ways of living and the challenges others have. 
Community involvement helps children in many ways. That's why our Orlando Catholic school located in the Catholic Diocese of Orlando encourages children to help their communities thrive. Our staff is committed to proclaiming the Gospel Message of Jesus Christ. We believe in teaching the whole child and want students to love learning, helping them grow into well-rounded, contributing members of society. Learn more about us by contacting us here.