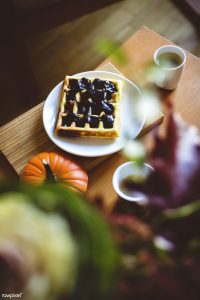 One of the best ways to ring in the new season is with fall-themed sweets! As an Orlando private school, St. Charles Borromeo believes in spending intentional time with your children, and baking these treats together is the perfect bonding activity. Here are a couple of easy ideas that fit perfectly into a Saturday afternoon with the kids:
Pumpkin Seed Trail Mix
After carving pumpkins, you will likely have a lot of pumpkin seeds lying around! Try throwing them into this tasty mix. Preheat your oven to 300 degrees. Then help your child mix together 1 cup of pumpkin seeds, ¾th cup of raw sunflower seeds, 1 cup of slivered almonds, and 5 tablespoons maple syrup. Spread the mixture onto a lined cookie sheet, sprinkle with coarse salt, and bake for 20 minutes. You'll need to stir the mix once or twice to make sure everything bakes evenly. Once out of the oven, break it into pieces and add in some dried fruit and white chocolate chips. Yum!
Candy Cornucopia
All you need to create this are ice cream cones and candy! Dip the bottom inch of a sugar cone into a glass of water, and then sprinkle a few extra drops of water into the cone as well. Stick each cone individually into the microwave for 30 seconds. While it's warm and soft, take a pencil and twist the tip of the cone around it until it resembles the tip of a cornucopia. Leave the pencil there for a few seconds until the shape holds. Once you fill the cone with fall-themed candy, wrap the finished product in a baggie. Tie a verse on thankfulness, such as 1 Chronicles 16:34, to the baggie with an orange ribbon, and you have the perfect gift!
Fall Leaf Cookies
Add a seasonal twist to your favorite cookie recipe with food coloring and cookie cutters. Split your dough into three even sections and add red, orange, or yellow food coloring to each section. Now, split your colored balls into even smaller balls, piece them back together like a checkerboard, and roll out the dough. Finally, use a leaf cookie cutter to carve out fall-colored cookies.

We hope you enjoy making (and eating) these treats! Help your children practice measurements as they help with baking — this will help them apply skills they're learning in the classroom in a way that's fun and delicious. If you're looking to enroll your children in an Orlando private school that values both education and faith, visit us at St. Charles Borromeo! We'd love to have you as part of our community.