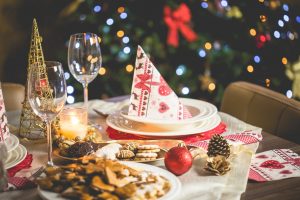 The community at St. Charles Borromeo hopes that you and your family had a wonderful Thanksgiving. While the turkey leftovers might have finally disappeared from your refrigerators, we know that it's not quite time to let go of all of that holiday food! Based on your personality, here are the side dishes you should keep making for the rest of the season!
Sweet Potato
Do you like to bend the rules, but don't like pushing the limit too far? Consider making a nice batch of sweet potatoes. Like you, this classic dish is versatile and unique. You can bake and stuff them with sour cream for a classic side dish, or get creative with melted cheese, spices, and a pinch of bacon bits. You decide how special you want this dish to be!
Cranberry Sauce
This is an easy favorite, especially for those with a sweet tooth. Cranberry sauce is a dependable holiday staple. You don't have to worry about spending hours preparing it, because it's just there, ready to be enjoyed, and you're similar: you're relaxed and laid back, and your friends know you'll be there when they need you.
Stuffing
Sure, stuffing is a part of the main turkey dish, but we'll let that slide for now. Just like we plan our holiday meals down to a tee, you plan ahead instead of going with the flow, and you prefer plans to be locked down in advance. Your friends and family know you'll be prepared for whatever comes along.
Have you figured out which Thanksgiving side dish fits you? We hope it's one of your favorite foods, and maybe one you'll incorporate it into your Christmas dinner plans.
As an Orlando private school, we say our thanks to God for all that He has given. If you're looking to enroll your children in a school that nurtures both their education and their spirituality, consider visiting us. You can learn more about our values on our about us page.