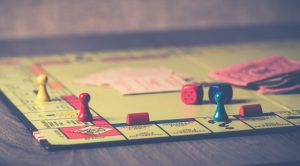 Easter break is a wonderful time to relax and celebrate the Resurrection of Christ. As a College Park private school, St. Charles Borromeo understands how important it is to make time for your family, especially around Easter! Take a look below at some of our favorite activities that you and your family can do together this break.
Family Game Night
You can never go wrong with classic favorites like Monopoly, Sorry!, and Trouble. You can even throw a little spin on a classic like UNO by turning it into Spicy UNO. If all you have are a deck of cards, you can start a small Spoons tournament! No matter what you choose to play, family game nights are a great opportunity to spur some friendly competition and create unforgettable memories.
Craft Party
Arts and crafts help exercise your child's creativity and self-confidence. Try picking up a crafts kit at a local bookstore, or check online for messy DIY ideas like polka dot slime or rainbow bubbles. You could even throw in a little bit of science into your craft day with these homemade bookmarks! Final products can be used as household decorations or as homemade gifts.
Bring Books to Life
Whether or not your kids are bookworms, it's easy to transform a family-friendly book into a captivating performance. Have the parents take turns playing narrator. Then assign your children roles, making sure to give them plenty of props, costumes, and time to get in character. As you read the book, have your children act out what their character is doing, and repeat or summarize the lines their character says. Encourage creativity, ad-libbing, and humor! This is a great way to make the Bible memorable and relatable, so make sure to use favorite Bible story as well.
Volunteer Together
Look into local organizations to see where you and your family can pitch in, such as food pantries, senior rehabilitation centers, or places that your church has partnered with in the past. Volunteering can help create stronger bonds between family members while helping your children practice empathy, gain self-confidence, and learn that they can make a difference in the world.
We hope that you have some fresh new ideas and that you enjoy spending time with your family this Easter break! And if you're looking for a College Park private school that offers faith-based education, including the significance of Easter, come visit us at St. Charles Borromeo. You can learn more about our curriculum on our about us page.