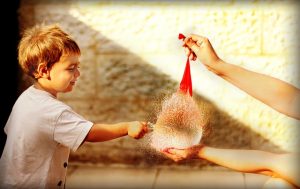 Winter is over and the Central Florida heat is about to be in full swing; the days are quickly coming where it's too hot to do anything outside that doesn't involve water. So what better way to cool off than with water balloons? Check out these creative ideas for how you and your children can play with water balloons this summer.
Water Balloon Race
Take a trip to your local dollar store and stock up on wooden spoons and small balloons. At home or the park, determine a starting line and a finishing line for your race. Fill the balloons with water, distribute a spoon to each contestant, and help each child carefully balance the water balloon on the spoon. The challenge is to see who can cross the finishing line first—without dropping their balloon.
If you want an extra art component, grab some paints and brushes. Each person racing can have fun decorating their own unique spoon to race with!
Balloon Toss
Instead of simply throwing balloons at each other, create a target. Get chalk, clear off a bit of space in your driveway, and draw a series of rings in varying sizes. Assign a point value to each ring, with the smallest ring being worth the most. Now, pick up those water balloons and let them fly! For extra difficulty, add in obstacles or rules like having to spin three times before throwing the water balloon. Have fun seeing who can collect the most points.
Ice Eggs
This one is perfect for those days that are too hot to step outside. Put a small toy inside a balloon, fill the balloon with water, tie it off, and then stick it in the freezer. Once it's frozen, carefully cut away the balloon from the frozen water. Enjoy the beauty of your freshly-created ice egg fossil! Have a contest to who can melt it the fastest or slowest, or just let it cool you off.
Water Balloon Hunt
Fill up water balloons and hide them around your yard. Then, see how long it takes your kids to track them down… and how much longer it takes them to start throwing their newly found treasure.
We hope you and your family stay cool this summer! Drink lots of water, enjoy throwing some water balloons, and remember to visit us at St. Charles Borromeo. As a Catholic school in Orlando, we want our students to work hard, play hard, and pray hard—especially over the summer. And if you're looking for a school that values both academics and spirituality, please consider visiting us. You can learn more about what we offer on our about us page.