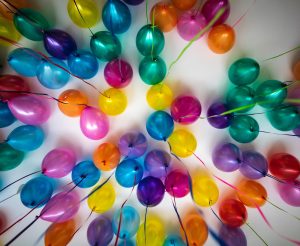 November 1st is All Saints Day! This is a time for us to remember the saints and celebrate them with our friends and family. As an Orlando private school, St. Charles Borromeo loves to see our community partake in these celebrations alongside the people who matter most. If you're considering throwing an All Saints Day Party this year, take a look at some fun games to incorporate!
Angel Food Cupcake Walk
Snacks are one of the best parts of any party — especially for young kids. Why not combine a treat with a game? Print out pictures of saints for your kids and their friends to stand in front of. Write down the names of each saint, and then put them in a hat. Draw a name, and whoever is standing by that saint wins a cupcake! Want to add an extra layer of excitement? Tape pictures of saints to chairs and turn this into a game of musical chairs, or ask children to give a fact about the saint before rewarding them with a treat.
Halo Party Favors
Need a fun, simple party favor? Try glow sticks. You can put together glow stick halos for each guest, or let them pick their own colors and create their own halo. These "bracelet halos" are an easy way to set the mood and help everyone remember the reason for celebration.
Pin The Halo on The Saint
Put a spin on an old classic with a picture of a saint, a paper halo, some tape, and a blindfold. Apply the same rules for Pin the Tail on the Donkey. Just place the blindfold on a player, spin them 3 times (or more or less, depending on the age of your players), and see if they succeed in pinning the halo on the saint.
Saint Freeze Tag
Now that cooler weather is approaching, it's time to take the games outside! Everyone can challenge their own knowledge of saints with this twist on freeze tag. Whenever someone is tagged and frozen, they have to say the name of a saint to unfreeze. The hard part? You can't repeat a name!
Our community at St. Charles Borromeo wishes you and your family a happy All Saints Day! As an Orlando private school, our staff is committed to proclaiming the Gospel Message of Jesus Christ. We believe in teaching the whole child and want students to love learning, helping them grow into well-rounded, contributing members of society. Learn more about us by contacting us here.