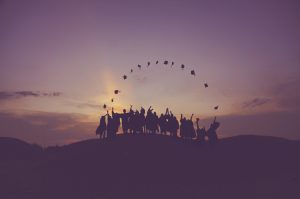 It's almost time for graduation! As an Orlando Catholic school, St. Charles Borromeo will miss our graduating classes, but we're proud of our students' accomplishments this year and excited about their bright futures. No matter their age, graduation is the perfect time to capture memories, so take a look at some of our favorite momentos below.
Preschoolers and Kindergarteners
This class is growing up fast! You can capture their youth by creating a simple DIY craft with their handprint. To make a salt dough ornament, combine one cup of salt with one cup of flour in a bowl, mix in ½ cup water, and knead the dough. Press it into a circle and put a little paint on your child's hand. Then, press it into the dough. Remember to punch a hole into it to thread ribbon through before leaving it out to dry.
You can also make a keychain! Paint your child's hand with a gloss-finish acrylic craft paint, then gently press their hand onto Shrinky Dink plastic. Once the paint dries completely, use a Sharpie to add their name to the opposite side. After that dries, cut out the handprint, punch a hole in the plastic, and bake it in the oven for 2-3 minutes until it's flat. Afterward, use small pliers to loop a keyring into the hole. Now, you have a memory you can take with you anywhere!
Another option is to decorate a dish towel. Place a white dishcloth onto cardboard or newspaper, paint your child's hand with fabric paint, and press their hand to the fabric. Let it dry for 24 hours, then heat set it by ironing the opposite side or by putting the fabric into the dryer for an hour. Make sure to leave it alone for another day or two before washing.
Now that you have a small decoration, you can also create a snapshot of their personality by having them write an "about me." Think of it as a small letter to their future self, sharing their dream career, favorite food, favorite hobby, and more.
8th Graders
Want to capture memories and get excited about high school? Have a photo day! Get your child together with their best friends and take pictures with them donning their future high school colors. Then, plan a day for your child and their friends to scrapbook together with the photos you took, as well as any others they want to include.
This may also be a good time to revisit that "about me" to see how much has changed — or stayed the same! Ask them to write a new one to revisit when they graduate high school and suggest that they store it inside their scrapbook.
High School Seniors
High school is almost over and it's time for another picture day! Gather your child and their friends, have them wear their university colors, and take pictures in their favorite spots on campus and around town. And of course, pull out those old "about me" letters or DIY handprint crafts as a reminder of how much they've grown. For a humorous momento, recreate their childhood photos, paying special attention to poses, clothing, and facial expressions!
We wish our graduating classes good luck in all their future endeavors — we can't wait for you to come back and visit us to tell us all about them! And if your graduating little one is looking for a new Orlando Catholic school, visit us at St. Charles Borromeo. We mix faith and education to give children strong stepping stones for a successful future.