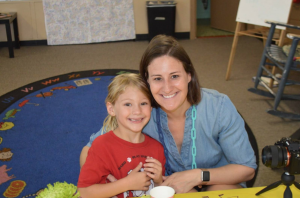 Celebrate Catholic Schools Week 2018 is just around the corner! On January 28th through February 3rd, St. Charles Borromeo would like to take time to celebrate the brilliant, faith-filled community that works so diligently to create a wonderful learning environment for our students. As an Orlando Catholic school, we would especially like to take time to thank our faculty and staff. Unsure of ways you can help show appreciation for our faculty during this festive week? Here are a few ideas.
Build a Treat Basket
Handmade gifts are fun for kids to craft, and they're always highly appreciated by the receiver! Find a small basket to fill with treats, and then break out the arts and crafts materials. Have fun coloring and decorating the basket—and maybe pack a note or two saying thanks. We're sure it will put a smile on a faculty member's face.
Create Recognition Signs
If your kids love arts and crafts but don't want to work with a basket, consider making a recognition sign. This sign, decorated with arts and notes, can be hung on a teacher's door as a personal thank you. It may also be a fun group craft idea, if your child and their friends want to combine their thank you messages on one sign.
Be a Parent Volunteer
Do you have some spare time during CSW? Being a parent volunteer can be an excellent way to help show appreciation for St. Charles Borromeo's faculty and staff. Volunteering in the classroom during CSW can free up some time for faculty to enjoy a meal together and build greater bonds as a team.
We hope we've given you some ideas on how to celebrate the St. Charles Borromeo community during CSW!. As an Orlando Catholic school, we appreciate our faculty and staff for the time they spend making our school a great place to learn—and we appreciate our volunteers and students for everything they contribute to our faith-filled community! And if you're currently looking for a Catholic school that prioritizes a student's academic and spiritual growth, please visit us at St. Charles Borromeo. You can learn more our curriculum and community on our about us page.